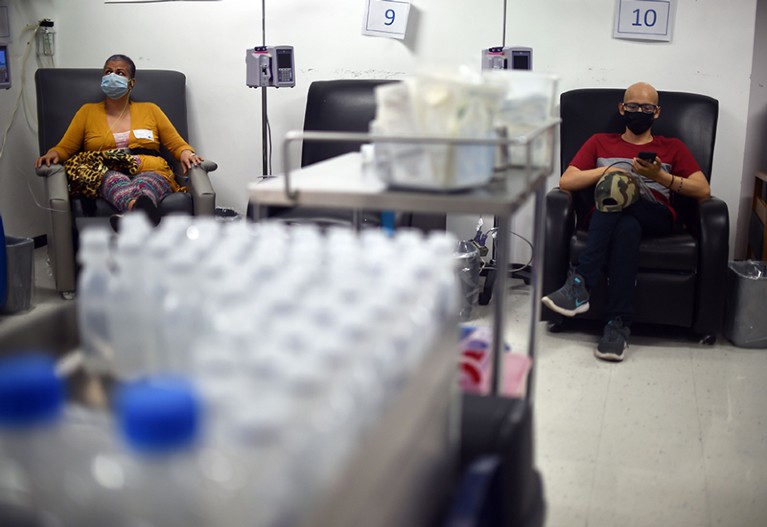 The total cost of cancer to the global economy will reach 25.2 trillion international dollars between 2020 and 2050, according to an analysis of 29 cancers across 204 countries. Of that, five types of cancer will account for roughly half of that cost.
The study, published in JAMA Oncology last month, finds that tracheal, bronchial and lung cancer will be the most expensive, followed by colon and rectal cancer, breast cancer, liver cancer and leukaemia1 (see 'Which cancers cost the most'). Together, those cancers will cost roughly Int$12 trillion over the next 30 years. International dollars are an artificial currency often used in economic analyses and comparisons across countries.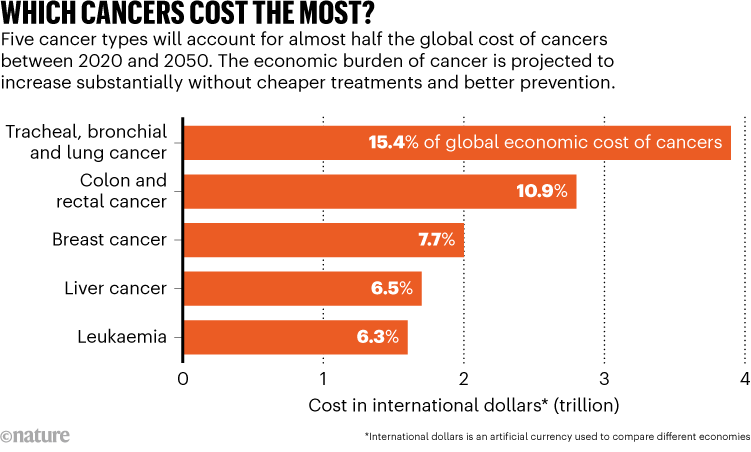 "People outside the cancer community may be surprised to see the extent of cancer's economic cost," says André Ilbawi, a technical lead in cancer control at the World Health Organization in Geneva, Switzerland. These kinds of study show that "the economic cost of cancer is undeniable", he says.
Global analysis
Researchers have previously estimated the global cost of cancer — the leading cause of death worldwide — but these studies have mainly looked at a select number of cancers. To get a more complete picture, Simiao Chen, a health economist at the Heidelberg Institute of Global Health in Germany, and her colleagues collected economic and health data from around the world. They then modelled the future cost of cancer, breaking down the data between countries and cancer types. Apart from the direct cost of treatment, diagnoses affect the economy by forcing people to step away from work and to spend their savings on treatment.
The analysis estimates that, without further investment in research and prevention, cancer will cost the global economy an accumulated Int$25.2 trillion in health-care costs, lost labour and spent savings over the next 30 years. That is equivalent to an annual tax on global domestic product over 30 years that exceeds the value of all goods and services exported from China, the world's largest economy.
Although three-quarters of deaths caused by cancer occur in low- and middle-income countries, the analysis found that more than half of the global cost of cancer will occur in high-income countries, with China and the United States bearing the highest burdens. This is partly due to their large populations, but also to the high cost of health care in the United States.
Policy implications
The study also found that the cost of certain cancers differed around the world. Breast and cervical cancer will have the largest economic impact in sub-Saharan Africa, whereas wealthy countries will have the highest costs from cancers that mainly affect ageing populations, such as lung cancer.
Such information could help policymakers know what cancers to target in policy, and push countries to invest in cancer research and prevention, says Chen. "Addressing cancer is expensive. But the cost of not addressing cancer is even higher."
In countries such as China, where lung cancer is common, policies intended to curb tobacco use could make a difference, says Chen. Many costly diseases can be tackled with preventive care, such as vaccinations against human papillomavirus, which is linked to cervical cancer, or regular cancer screenings, says Robin Yabroff, a health-services researcher at the American Cancer Society, headquartered in Atlanta, Georgia.