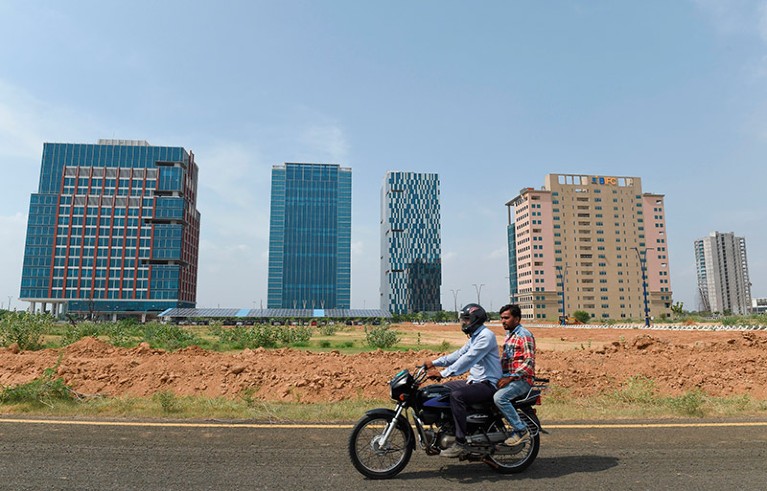 For the first time, the Indian government has granted approval for foreign universities to set up campuses in the country, as part of a nationwide push to foster multidisciplinary research. Two Australian universities, Deakin University and the University of Wollongong, were the first to reveal plans to open international campuses. The announcement was timed to coincide with a four-day visit to India by the Australian prime minister, Anthony Albanese.
"There is a lot of enthusiasm," says Pankaj Mittal, secretary-general of the Association of Indian Universities in New Delhi. She says Indian universities have welcomed the development, because it will enable students to obtain a "foreign education" in India, and will create opportunities for collaboration in international research.
Gavin Moodie, an education researcher at the University of Toronto in Canada, says that India is a desirable location for English-speaking universities, because much of the country's higher education is already conducted in English. India also has a growing middle-class that values international qualifications, as indicated the roughly one million Indians who study outside the country, he says.
The two Australian universities will set up operations in Gujarat International Finance Tec-City (GIFT City), a planned 'smart city' on the outskirts of Ahmedabad in Gujarat, home state of the Indian prime minister, Narendra Modi. In October 2022, Gujarat became the first Indian state to publish regulations for the operation of foreign-university campuses.
In January, the country's University Grants Commission, which oversees higher-education institutes in India, released draft national regulations for foreign universities. Brigid Freeman, a higher-education policy researcher at the University of Melbourne in Australia, says the regulations are expected to be finalized over the coming year, and will pave the way for foreign universities to set up campuses anywhere in India.
Moodie expects that other universities will apply to establish campuses in India.
Sector restructure
The move to allow foreign-university campuses is part of a broader shake-up of higher education in India. In 2020, the government launched its National Education Policy, which set out the country's ambitions to enlarge and restructure the sector.
There are around 1,000 universities in India, with much of the undergraduate teaching being delivered by small colleges offering limited numbers of courses. The new policy aims to "end the fragmentation of higher education" by creating multidisciplinary universities and knowledge hubs, which will foster cross-disciplinary research.
India plans to double its higher-education enrolment to around 75 million students by 2035, according to the policy. It's an ambitious goal, says Freeman, and foreign universities might be needed to meet that figure.
But such universities could divert students and resources away from Indian universities, making the move potentially "very controversial in India", says Moodie.
A boost to research?
Deakin's campus in GIFT City will initially offer courses in cybersecurity and business analytics to 100 Indian students each year. The University of Wollongong will run courses in information technology, business and financial technology. Stephen Wilkins, a higher-education management expert at the British University in Dubai in the United Arab Emirates, says that most international campuses focus on teaching, but can develop research programmes if they are successful.
Wilkins says that around 10% of international campuses — in particular, smaller operations that cover a limited number of disciplines — ultimately fail. "If it's too niche, they don't tend to be long-lasting," he says. He cites the example of University College London, which opened a campus in Qatar in 2010, offering postgraduate courses in archaeology and several other disciplines. The campus closed after ten years because of low enrolment and in line with a shift in UCL's approach to international campuses.
Universities in Australia, the United States, Canada and France have already opened joint research academies in some of India's elite universities' including the Indian Institutes of Technology in Bengaluru and Delhi and the Indian Institute of Science in Bengaluru, to train doctoral students.
Vijay Khare, head of the office for international affairs at Savitribai Phule Pune University, says that Indian students and the research community would be better served by focusing on such joint ventures and dual-degree programmes, rather than allowing foreign universities into India.
Earlier this month, education ministers from Australia and India signed an agreement recognizing qualifications to "enhance student and researcher mobility" between the two countries. India signed similar agreements with France in 2018 and with the United Kingdom in 2022. A United Nations global convention on the recognition of higher-education qualifications came into effect on 5 March this year, with 21 countries, including Australia, the United Kingdom and France — but not India — having ratified it.
"The interest in research and collaborations with India remains strong and will only grow," says Freeman, "and that is fantastic."