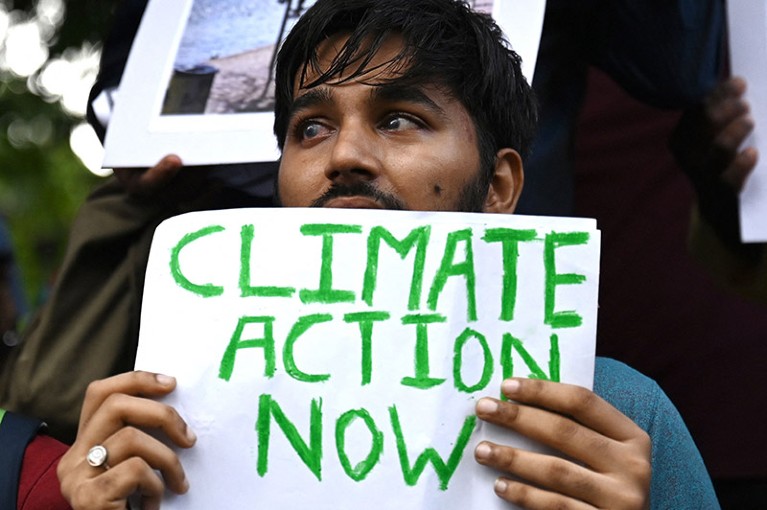 India's plan to transition its economy towards green-energy production was a strong focus of this year's national budget, with the government pledging 350 billion rupees (US$4.25 billion) to aid the transition. Climate-policy researchers say the funding is a welcome first step but that it needs to be followed by long-term commitments.
In November 2021, Indian Prime Minister Narendra Modi set the goal for his country, the world's third-biggest emitter of greenhouse gases, to reach net-zero emissions by 2070. Indian policy analysts applauded the target, but said it was unclear how the country would make the steep emissions cuts needed to achieve it.
The budget indicates that India is serious about mitigating climate change, says climate scientist Jayaraman Srinivasan at the Indian Institute of Science, Bengaluru. "But to meet the goal of net zero by 2070, it will take many decades of consistent policy to transition from coal, oil and gas to renewables," he says. Senior government scientists say that the announcement will also help to set the country's future research agenda.
Green hydrogen
Presenting the annual budget in the country's parliament on 1 February, finance minister Nirmala Sitharaman said that the government is implementing programmes to decarbonize many industries, including energy, agriculture and construction. It committed 19.7 billion rupees to make India a global hub of production and an exporter of 'green hydrogen' — which is produced using renewable energy to break up water into oxygen and hydrogen, rather than made using fossil fuels. The hydrogen can then be used as fuel by other carbon-intensive industries, such as cement and steel production.
The ministry of new and renewable energy will receive 10.22 billion rupees, a 48% increase on last year's budget. But funding for the ministry of environment, forests and climate change, which oversees crucial programmes on adaptation and mitigation, remains stagnant at around 30 billion rupees in 2022–23.
Tiju Thomas, a materials engineer at the Indian Institute of Technology Madras in Chennai, says that to boost the country's production of low-emissions hydrogen will require synergy between policymaking, industry and research. "It is the right time for India to up its game in energy transition," says Thomas.
But the country also needs to increase its energy-storage capacity to take advantage of other forms of renewable energy, such as solar and wind, which are not available all the time, Srinivasan points out.
India is already facing the brunt of climate change. The first national assessment1 of climate change found that the average temperature rose by around 0.7 °C between 1901 and 2018. And the country experienced an extreme event almost every day in 2022, according to an analysis released in November by the non-governmental organization Centre for Science and Environment in New Delhi. Heavy rains, floods and landslides were the most frequent events. Furthermore, climate change and population increase will reduce the availability of water.